The short answer is 'yes'. The slightly longer answer is 'yes, and he hit his 500th home run there also'. So where the heck is East 66th & Lexington? Well, currently it's a ramshackle corner within a run down neighborhood on Cleveland's East Side. But once...
O
nce upon a time... it was home to a Major League Baseball park in every way the equal to it's similarly aged counterparts Wrigley Field and Fenway Park. Yes, League Park was a testament to the strength and vitality of Clevelanders and their love of sport.
A "neighborhood park", so named because as opposed to today's sprawling commercial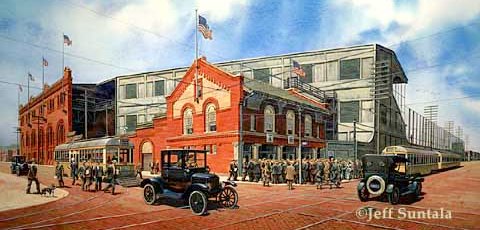 behemoths with parking for miles around, the Park was built literally in the middle of a neighborhood, with existing trolley lines to service crowds coming and going from the afternoon games. It opened in 1891, and Cy Young was the starting pitcher for the then home team Cleveland Spiders.
Unfortunately, an auspicious beginning did not herald a lasting success. As home not only to Cleveland's professional baseball clubs (the Spiders and the 1920 World Series Champion Indians), but Cleveland's first professional football team, the Cleveland Buckeyes, the legendary Negro League Baseball team, and other major sporting events, League Park was a gem for a city on the move.
Seating increased from 9,000 to 27,000 to accomodate increasing demands, but when space ran out (a neighborhood block can only contain so many spectators), plans were drawn for the cavernous, and equally legendary, Cleveland Stadium on Lake Erie.
As increasingly crowds and events were drawn downtown, League Park withered. The final Indians game to be played there was in 1946, and only as a token reminder of games past, and the bleachers were finally torn down in 1951.
Today, the shell of the once magnificent cathedral of baseball remains. To get to my long-winded point, there is a non-profit group, the
League Park Society
, who have drawn up plans to renovate the stadium for use as a neighborhood (or high school, or AAU, or...) baseball field in the heart of Cleveland's East Side.
The group is collecting signatures
here
, and if you're in any way interested, why not sign? We've lost too many landmarks in Cleveland to neglect, and a signature on an online petition takes hardly any time at all.
On a personal note, I remember running a 5k with my Dad from League Park to the as-then yet to be built Gateway complex downtown. I was amazed when he told me the stories that Babe Ruth, Ty Cobb, Cy Young and others played there. To me, at the time, it looked like an absolute lost cause in a city of absolute lost causes. Today, I am realizing that it is only apathy that makes causes lost.