As Katie weaves her way through South America on her way to Bolivia, we are left here in the gray of Cleveland in winter. Boooooo. But, on the plus side, I will have hot water and reliable electricity, which I'm pretty stoked about. As she will not, I will act as a sort of conduit to update those interested in her trip.
Day One:
Katie survived the seven hour layover at JFK and flew overnight to Lima, Peru. From there she caught another flight to Arequipa, where she stayed two years ago for her internship. Friends picked her up from the airport and installed her for the night in their apartment. The weather was hot, the sun was out, and she was sleepy.
Day Two: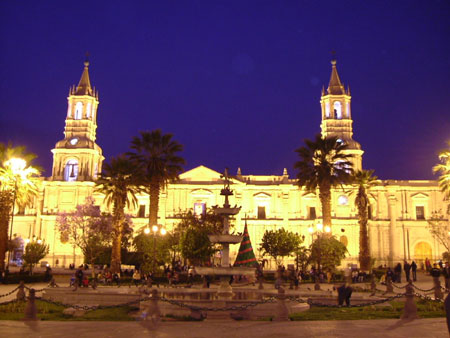 Actually day three, but with overnight flights and such, it's just easier this way. Spending the day exploring Arequipa, with the beautiful
sillar
main square, which was named a UNESCO World Heritage site in 2000 (thank you
Wikipedia
).
As this is concurrent with today, I don't really know too much more other than that she will be flying tonight to Cusco, a city relatively close to Machu Picchu, which has, of late, been the site of
some serious flooding
.
I anticipate that she will do some or all of the following today:
1. Eat chicken and potatoes... and maybe giant corn (it's enormous, I don't know what kind of Miracle Grow they're using over there).
2. Buy yarn; come on, it's inevitable.
3. Walk around the main square (pictured above) and struggle to find just the right angle to get a good picture of the Cathedral.
4. Dread her upcoming layover in the La Paz airport. It apparently takes a long time to get to a small Bolivian village, mainly because there are no direct flights.
When she does arrive at her final destination, Independencia, it will be a different landscape than any of us (most likely) are used to. For instance, I've been trying to dig up information on the village, but even in this day and age, it's nearly impossible. That's how you know it's pretty 'off the grid'. Take the photo below, for example. It shows the gps location satellite imagery for the village, and yes those are trees.
I think 'rural' may be putting it mildly...